Tip #27: Share funny stuff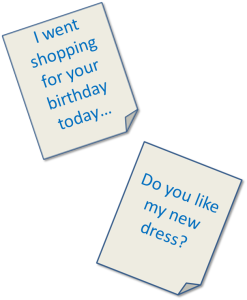 Boost spirits by sending people (tasteful) greeting cards, cartoons, gifts – anything comical.
If it's personally relevant, it's even better!
There are so many things on the Internet, on TV (Jeff Foxworthy's "You might be a redneck if…" humor is hysterical!). Gag glasses, funny hats, red noses, all bring a smile to someone's face and a chuckle to their hearts.
But personal and specific funny stuff is priceless!
For example, when I worked in Boston, a close friend and I often went to lunch together and we'd also often find ourselves shopping at that time. It seemed that every time my friend went shopping for clothes, she found nothing – but I found something I loved… and bought it!
When her birthday came around, I found a birthday card that tied perfectly to this running joke. On the front cover it said, "I went shopping for your birthday today." When you opened it up, it said, "Do you like my new dress?"
Hysterical – and perfect for us. Keep your eyes open – these types of things are EVERYWHERE!!
Remember, you can also:
Please leave your tips and suggestions for sharing funny stuff with others – especially if it's personal and specific.