Tip #45: Be the opposite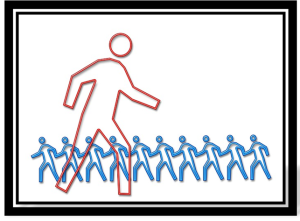 If no one else is doing something, you do it; if everyone is doing it, you do something else.
Don't let excuses hold you back!
Not to pick on the construction industry, but almost every contractor I've ever hired has demonstrated the same not-so-great qualities: they're habitually late; they don't pay attention to what you say – you have to watch them like a hawk to ensure they do things as you want them done; they're extremely messy when they work – and most don't clean up after they leave… (what's up with that???) You come into someone's home and make a mess – and think that's OK because they all do it?
My husband and I got a humongous WOW one time when a contractor did the opposite: he arrived right on time to install a tile floor in our bathroom. He also worked quickly and quietly, his work was stellar, and when he left, he vacuumed our new tile floor and wiped down the sinks and commode to get rid of the dust he'd created. He even swept our garage floor to remove the dust out there where he had cut the tiles!
WOW!!
Remember, you can also:
Please leave your tips and suggestions for being the opposite and standing out from the pack.