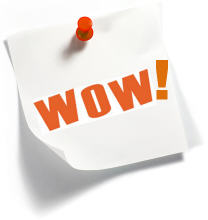 My family just got back from a short "stay-cation" (where we took a few days off, visited popular local attractions, dined out and stayed at a local resort here in the Orlando area).
The resort was very good, but a few little tweaks and better attention to detail (namely, the small nuances overlooked by the average company but used by the exceptional company to create a competitive advantage) could have brought it from Very Good to WOW!
Here's what I mean. The Very Good list is below:
The unit was very spacious (it was a one-bedroom vacation condo).
The furnishings and other appointments were attractive and soothing.
The towels in the bathrooms were arranged artfully, with nice attention to detail.
The unit was very clean and neat.
A DVD and a CD player were provided for our convenience.
The kitchen was well-stocked with plates, utensils and cookware if we chose to cook and/or eat in our condo, including dishwashing liquid, laundry soap, and even coffee and creamers.
The staff was courteous and friendly.
Below are a few tweaks that kept it from being a WOW:
The front desk clerk wouldn't give us the Internet code when we checked in. We had to go to our room and then call the front desk in order to receive the code. We never received an explanation why.
Although a TV and a DVD player were provided, the DVD player couldn't be plugged in because the TV and cable box were taking up the only two electrical outlets near them. No extension cord was available. We had to call the front desk to get one, so we could watch a DVD.
When we tried to use the DVD player, it wouldn't work. We had to call again to get someone to help us figure it out (there were no instructions). It took over an hour for someone to get there, swap out DVD players, and correctly configure the connections before it would work. By this time, it was almost 9:30 p.m.
There was a sofa bed in the living room that my husband and I intended to use (we gave the master bedroom to my elderly parents). However, the bed was not made, and there were no linens, pillows or blankets for it. We had to strip the linens from two bunk beds in the unit, as well as take their two pillows and the

one

blanket supplied (for

two

bunk beds) in order to make up the sofa bed so we could sleep on it.
The garage was a nightmare of too-narrow aisles with barely enough room to turn corners with our Toyota Avalon, a nice-sized car but by no means huge; in fact, you could see paint scrapes on the pillars and walls where other cars obviously didn't successfully navigate those tight curves. We parked outside after the first day.
All of the above, with the exception of the garage design, are easily fixable. The Internet code can be given at check-in (and usually is), and the housekeeping staff can make sure that all appliances and amenities are in good order after each guest checks out. As for the garage… well, they may be stuck with that weird design.
These small, but meaningful, nuances make an impact on the guest experience – and although our resort stay was still very good, I don't think any resort (especially one in an extremely competitive tourist market) strives for Good, or even Very Good… they strive for WOW! And with very little effort this really nice resort could have made a WOW impact on our entire family and sent us away raving about it to everyone we know.
No matter what industry you work in, sit down with your staff and co-workers and examine every aspect of the guest experience; then figure out what works and what doesn't. Fix what doesn't and keep improving what does, a little at a time… until you figure out all the small nuances of your business that are often overlooked, but that with very little effort can be employed to add up to a WOW experience for your customers – and a competitive edge for your business.